"SUFFOLK - TOWN & COUNTRY" BY © ELAINE GREEN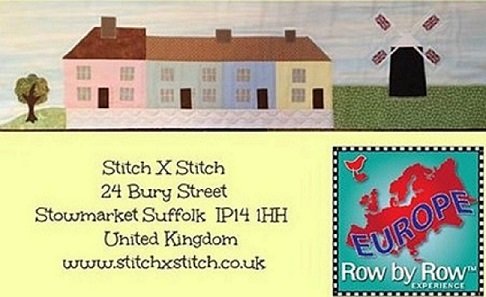 Are you travelling this summer? The
Row by Row Experience
begins on Tuesday 21st June. Stitch X Stitch is thrilled and excited to be participating as the summer event comes to Europe for the first time.
WHAT IS IT?
It's like a shop hop, but it's not… no fees, no cards to stamp, and all summer to play! Simply visit any of the participating shops and receive a free pattern for a row in a quilt. Combine your rows in any way to create a unique quilt that represents the fun you had traveling throughout the summer. Travel with friends and have fun collecting rows!
Shops across the UK and Europe, the US and Canada are participating. Look at the List here.
You have from June 21 through September 6, 2016 to collect the free patterns. You have until October 31, 2016 to submit a quilt for a prize.
You will be able to buy kits for the rows you love from the pariticipating shops.
Create a quilt using at least 8 different 2016 rows from 8 different 2016 participating Row-by-Row shops.
Each row pattern follows the theme of Home. Each row is 36-1/2 inches wide (unfinished) and no taller than 9-1/2 inches (unfinished).
How can I participate in Row by Row Experience?
It's easy! Simply visit any participating quilt shop during the summer and ask for their free pattern for a row in a quilt. The 2016 theme is Row by Row Home Sweet Home, and each shop is working with the home theme in their row. Each participating shop will give you the pattern at no cost, limit one per person, walk-in customers only.
Stitch X Stitch's Row-by-Row Design
Designed by Owner/Manager, Elaine Green. The inspiration for the row design was taken from our home county's surroundings. Pastel coloured cottages are plentiful in Suffolk's towns and villages and windmills and fields are a common feature of the Suffolk countryside. The "Union Jack" windmill blades were added to celebrate Europe's first year participating in the Row By Row Experience.
THE "FREE" ROW PATTERN IS AVAILABLE NOW FOR VISITORS TO THE STORE. FABRIC PRINTED MINI UNION JACKS AND COMPLETE KITS ARE ALSO AVAILABLE TO PURCHASE IN STORE.
PATTERNS, KITS AND FABRIC PLATES WILL BE AVAILABLE TO PURCHASE ONLINE FROM 1ST NOVEMBER 2016