Workshops and Events 
Autumn 2018
BOOKING TERMS:  Your place is secured on a class only when a deposit is paid.  Bookings are accepted by email, phone, Facebook or in person.  Once a booking is made, payment of a deposit should be received within 7 days.  The balance is payable on the day of the class.   
PLEASE CHECK OUR CANCELLATION POLICY BELOW
STITCH X STITCH, 24 BURY STREET, STOWMARKET, SUFFOLK, IP14 1HH

01449 257070
Website: www.stitchxstitch.co.uk
Email: hello@stitchxstitch.co.uk
Facebook: www.facebook.com/stitchxstitchstowmarket

Instagram: https://www.instagram.com/stitch_x_stitch_stowmarket
"ABSOLUTE BEGINNERS"

If you have always wanted to "sew something" but don't know where to begin or don't have a sewing machine – these classes are for you!   If you don't have a sewing machine, don't worry - its FREE to use one of ours for the day.

Also a great class to get you going if you have a sewing machine but it is still in its box!!!  Bring yours along and we'll get you on your way.
We have Absolute Beginners classes for dressmaking and general sewing leading on to patchwork & quilting. 
ABSOLUTE BEGINNERS CLASSES WILL RETURN IN JANUARY 2019
October


***"QUILT~AS~YOU~GO" SAMPLER COURSE***
~ 12 SESSIONS WITH ELAINE SPRINGHAM ~
 **
NEW COURSE STARTS IN SPRING 2019 ~ MORE DETAILS COMING SOON ** 
DATES:  Thursdays ~ 4th October, 11th October, 1st November, 8th November, 6th December, 13th December, 3rd January, 10th January, 7th February, 14th February, 7th March and 14th March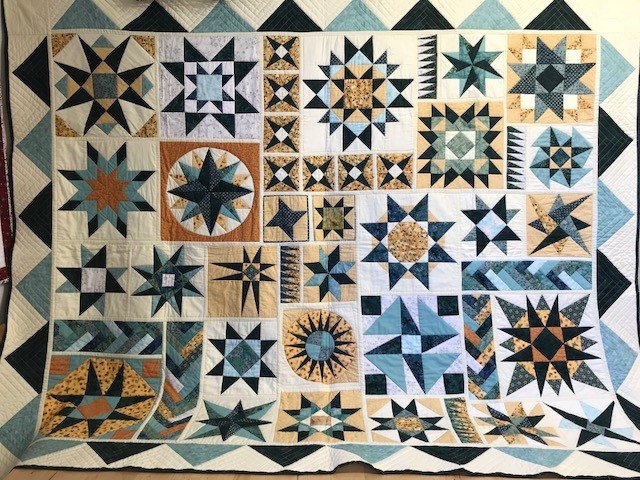 Challenge yourself and give yourself a project to get stuck into this Autumn/Winter.  Imagine this stunning, large Star Sampler Quilt on your bed.  Join Elaine (No.2) on the first 2 Thursdays of each month starting on Thursday 4th October.  You will learn new techniques at each session and how to quilt each block as you complete it, so there's no worry of how on earth you quilt your quilt on your regular sewing machine.  Very affordable way to learn and make a quilt ~  £20 per session.  Sessions will be 10.00am to 3.30pm.  There will be some blocks given for homework along the way.  Not suitable for absolute beginners but a great quilt project for those who know the basics in patchwork (ie. how to use a rotary cutter, board and ruler).
 
£20 PER SESSION (Payable on the day of each session) ~ £20 DEPOSIT SECURES YOUR PLACE ~ PLACES LIMITED TO 6 ~
CAN'T MAKE THESE DATES BUT WOULD LIKE TO DO THIS QUILT NEXT TIME AROUND!! Get in touch to put your name on our reserve list as we'll be running this one again once this course completes.  
Wednesday 17th Oct            "EVENT: PFAFF DEMO DAY" with Louise from VSM

                                                10.30am~3.30pm
                                               FREE EVENT ~ BOOKING ADVISED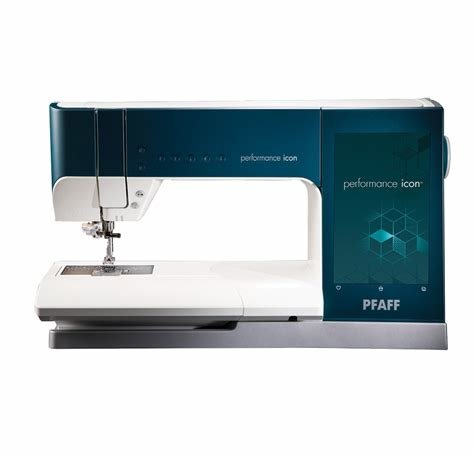 Louise from VSM will be with us today to demonstrate Pfaff sewing & embroidery machines, feet and accessories. If you have bought a Pfaff machine from us or are looking to buy a new machine, you are welcome to come along any time during the day. A great opportunity to try before you buy or get some help and advice on your new machine.  Fantastic offers on machines available on the day.
Saturday 20th October            "MAKE A TUFFET" with Chrissy

                                                 2 Session Course : Saturday 20th October & Saturday 27th October 2018
                                                10.00am~3.30pm
                                                £65.00 (£25 deposit)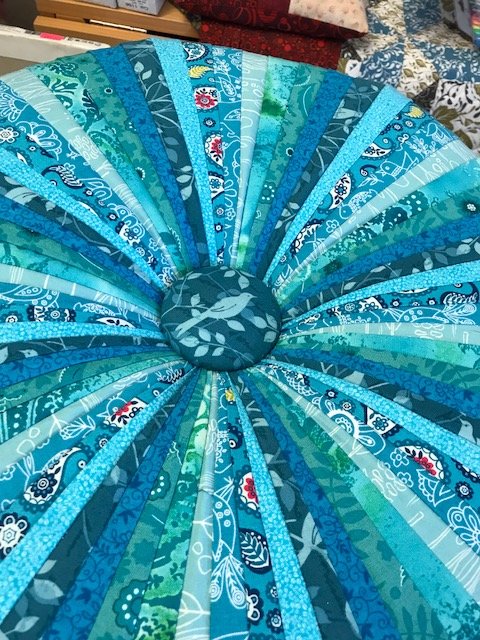 One Space Available ~ New Dates for this class booking soon ~ contact us to be added to the Waiting List
 Tuffet making is sweeping the nation as a great way to use your favourite fabrics in a fun and exciting way.  A delightful accent to any home, tuffets can be traditional or whimsical—the choice is yours! Join Chrissy over 2 day sessions and she will guide you through all the steps to create your very own special piece of furniture.  
Thursday 25th Oct                "QUILLOW COURSE" with Elaine 

                                                3 SESSIONS:  Thursdays 25/10/18; 15/11/18 & 29/11/18
                                                10.00am~3.00pm
                                               £75.00 (£25 deposit)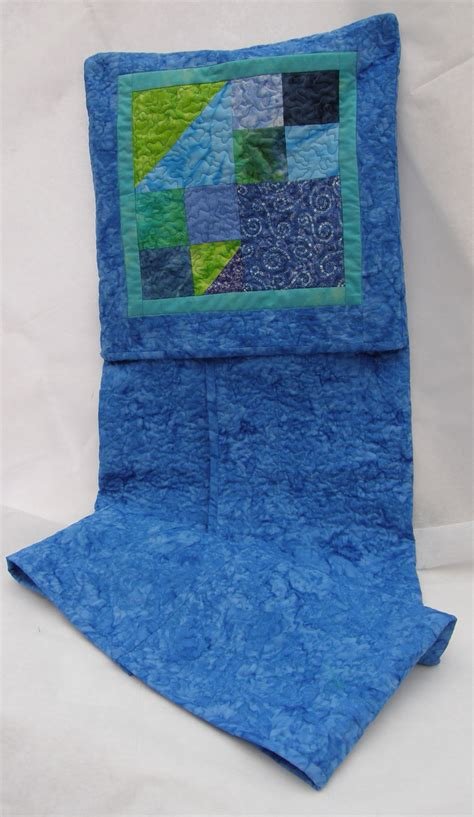 GREAT CLASS FOR BEGINNERS  A quillow is a quilt with a pouch attached.  When folded it looks like a pillow - when fully unfolded it is a quilt to keep you warm with a pouch for your feet. This 3-session course takes you through the whole quilt-making process from start to finish and is perfect for beginners. 

CLASS CANCELLATION POLICY
A full refund or transfer of your payment or deposit will be issued if you cancel a class giving more than 7 days' notice. 
A 50% refund or transfer of your payment or deposit will be issued if you cancel a class up to 72 hours (3 days) before the class.  If your place can be filled, then a full refund or transfer will be issued.
Any cancellations within 48 hours of the class will not be transferred or refunded.
We require a minimum of 4 bookings for a class to run.  We reserve the right to cancel a class if we do not meet the minimum requirement.  If this should occur, all paid class fees will be refunded or transferred.
PERSONAL "ONE-TO-ONE" TUITION

If you would rather learn in a "one-to-one" setting rather than in a group, we offer tuition on the following:
Sewing Machines
v Any make or model from basic mechanical machines up to top of the line embroidery machines and software.
v From the Beginning – threading and getting to grips with the basics
v Sewing Machine Refresher
v Beyond the Basics
Patchwork and Quilting
v Patchwork – the Basics
v Confidence with Cutting
v How to Quilt
v Binding a Quilt
Contact the shop and speak to Elaine for more information and to discuss your requirements.
 ***   BOOK OUR CLASSROOM FOR A SEWING DAY   ***
Our classroom is available for private bookings.  Book the day for a special occasion, birthday or just a sewing day with your friends ~ we can tailor a project for your group and include tuition and materials if required. 
Call  us for more details
OR BOOK A SEWING BIRTHDAY PARTY FOR YOUR CHILDREN AND THEIR FRIENDS IF THEY LOVE TO SEW (project and materials included)
"

SEW IN LOVE

"
by EDYTA SITAR OF LAUNDRY BASKET QUILTS
  Finished size : 75" x  75"
Limited Spaces Available
This Block of the Month includes all fabric as shown to complete the "pieced" version of this quilt (includes binding but not backing or waddding)
Over 17 yards of Little Sweetheart fabric by Laundry Basket Quilts from Andover Fabrics to complete the quilt top and binding.
"Sew In Love" Book (ships with the first month)
REGISTRATION FEE:  £25.00 - reserves your space and fabrics for the entire year
£25.00 per month for 11 months as each Block ships - first shipment September 2018 through to July 2019.  You can collect your pack each month from the shop or have it posted out to you.   
SHIPPING IS FREE WITHIN THE UK.




If you would like to be informed of workshops by email or you have any suggestions for the types of workshops you would like to do, please get in touch at:
YOU CAN FIND US ON FACEBOOK AT
https://www.facebook.com/stitchxstitchstowmarket
FOLLOW US ON INSTAGRAM AT
https://www.instagram.com/stitch_x_stitch_stowmarket

For more details or to book a place on any of our workshops and courses please don't hesitate to email.  Your place is secured by payment of a deposit – the balance is payable on the day of the workshop.
IF YOU HAVE ANY SUGGESTIONS FOR CLASSES WHICH YOU WOULD LIKE US TO DO – PLEASE DON'T HESITATE TO GET IN TOUCH WITH US.
STITCH X STITCH, 24 BURY STREET, STOWMARKET, SUFFOLK, IP14 1HH
01449 257070
www.stitchxstitch.co.uk